I don't know why all wagons and hatchbacks don't come with this sort of simple tailgate paint protection factory installed. My Flex rolled off the assembly line with one attached. For my Subaru, I ordered an OE part. Couldn't find one anywhere to fit the A4 allroad. For the i3, this particular custom-shaped aftermarket piece from the UK's RGM Automotive cost an exorbitant $80 to ship to the US. Standard disclaimer: I paid retail price for this part, and was not asked to write this review.
Yeah, sure, I could have gone the route of 3M film or a generic PVC strip -- for a whole lot cheaper -- but I prefer parts that fit right and look the part. There are enough i3s in the US that these really
should
be available through a distributor. Until then, here's the product link (you'll need to select a pre- or post-facelift model):
https://rgmautomotive.co.uk/search/?make=&model=747
Here are the paint scratches I'm referring to. No, they're not terribly terrible, but my crystal ball says they'll only get worse. I roll with my two young sons who drag their backpacks 'n stuff in and out of the car, and I can't claim innocence, either. Thankfully the kids are relatively respectful young men who know dad hates scratched paint. I've seen other i3s with bumper paint that is totally trashed, maybe with the help of dogs.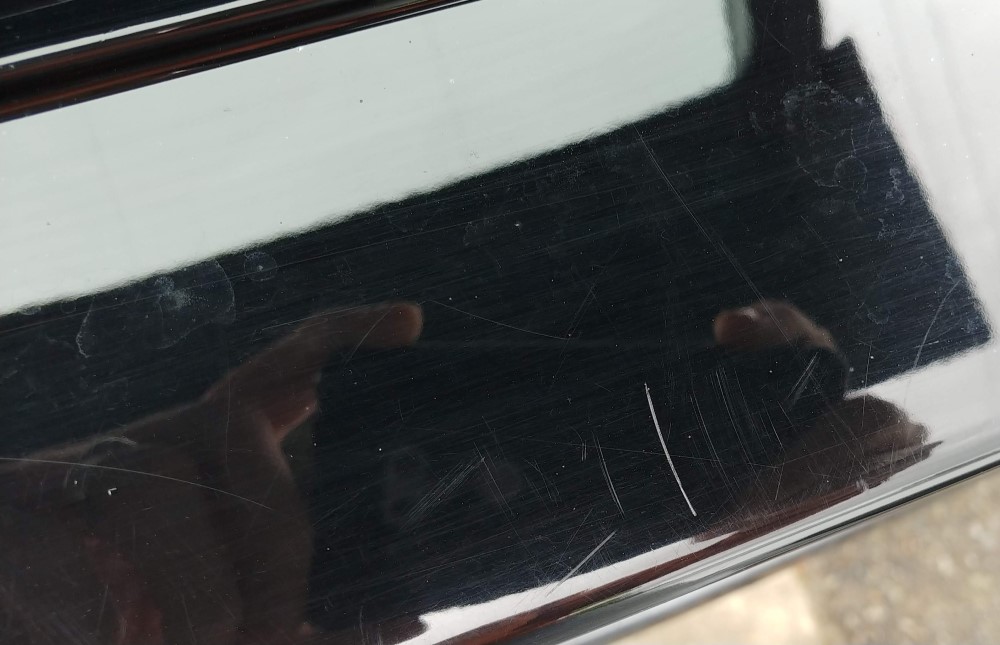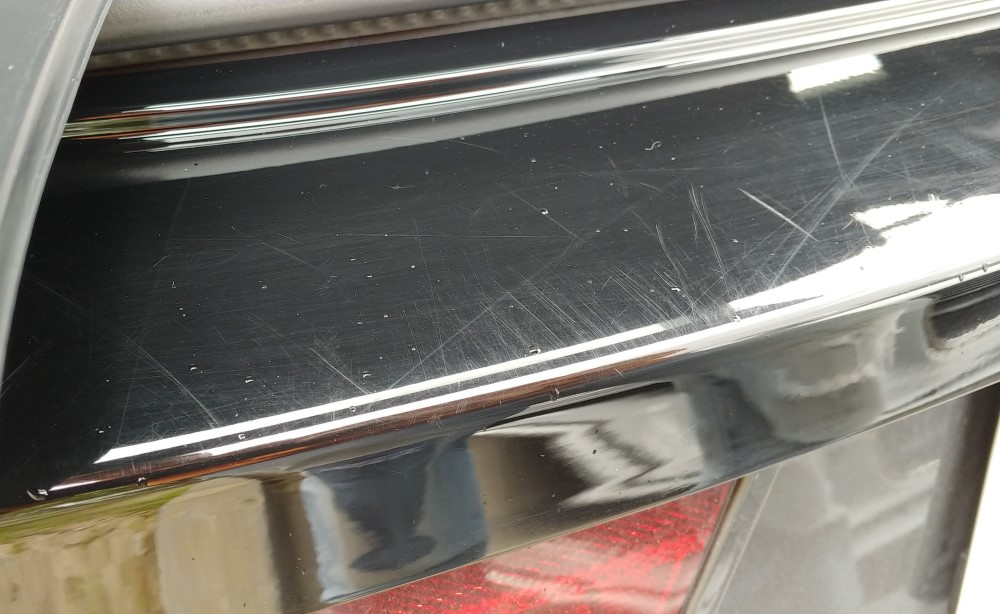 After seven days in transit, this cartoonishly-large box knocked on my door, from the UK by way of Paris and Memphis. Shipping time was shorter than the eight days it took to submit and process the order, which requires a multi-email back-and-forth exchange for a shipping quote and PayPal or bank transfer payment instructions. I think RGM could have saved me a few bucks with a smaller box, but hey, it's FedEx ("International Economy"), so probably couldn't have been done for much less.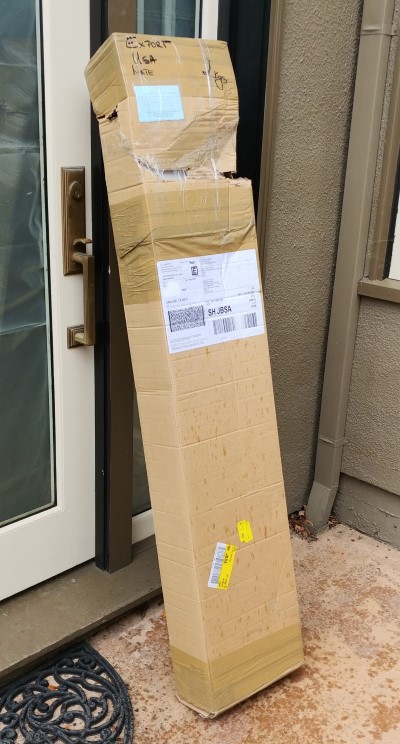 Despite the damaged box, there was a much slimmer untouched box tucked inside, double bubble wrapped. With all the pretense of the giant box, this is all that slides out: the RGM Rearguard p/n RBP846 (2013-2017), poly-bagged, with instruction sheets and a cleaning wipe.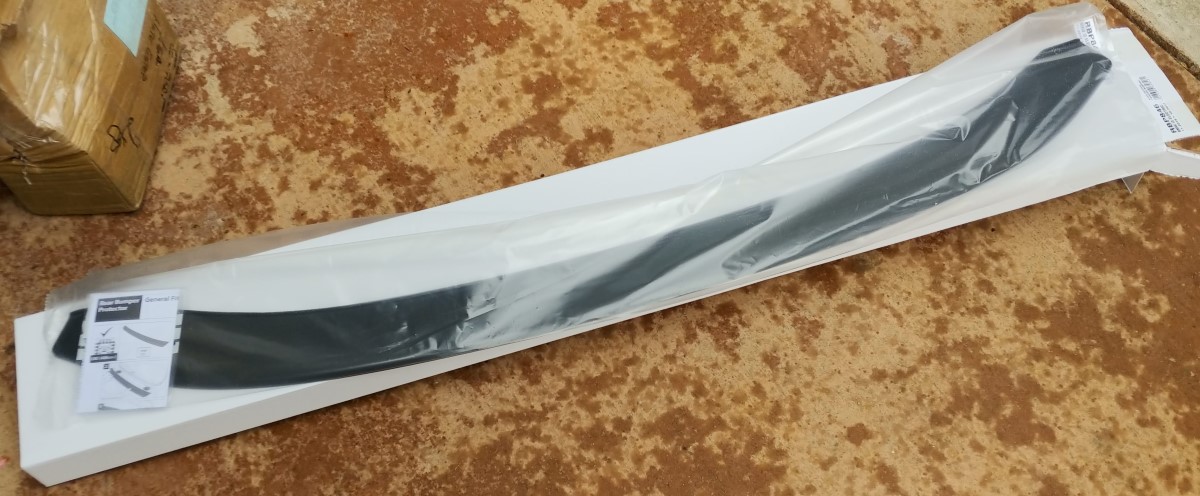 The Rearguard is ABS plastic. It has an interesting texture on the underside, some "inspected by"-type decals, and double-stick tape pre-applied. The tape looks to be 3M VHB acrylic-foam, commonly used for automotive applications. It is applied in one continuous length along only the "rear" edge, with short strips along the left and right edges.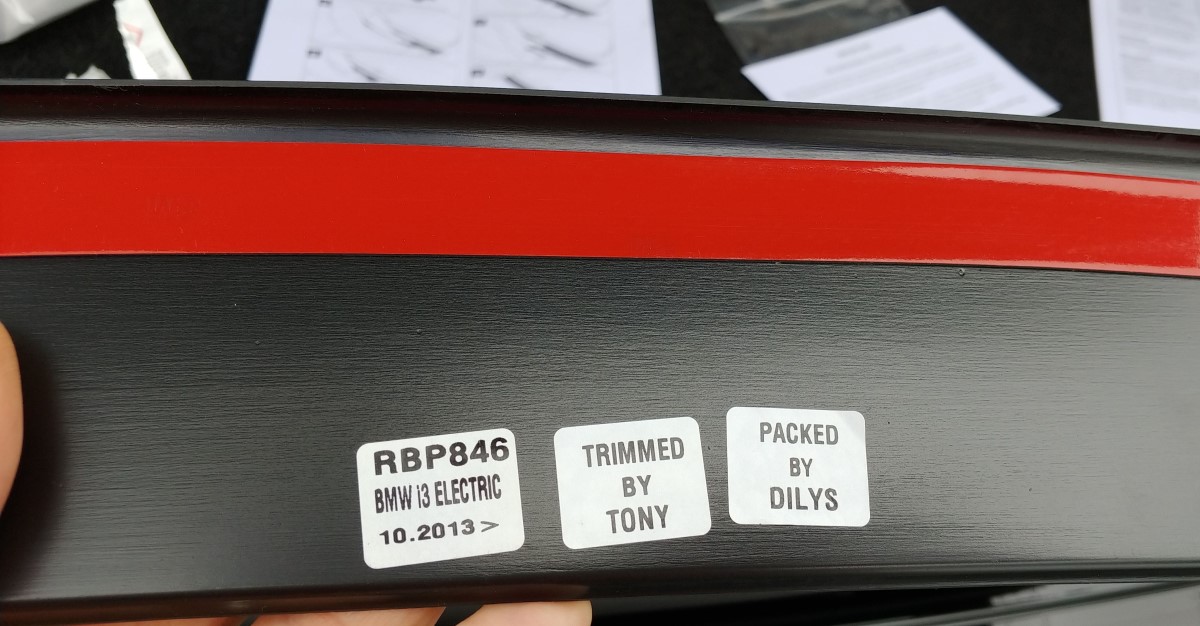 I did a soap-and-water cleaning of the bumper, then an alcohol wipe-down, followed by a couple of passes using the included 3M wipe. The 3M wipe left behind some dirty-looking brown streaking, so I did one final pass with the alcohol. If you search the web for VHB application, you'll find a whole 3M page dedicated to surface prep. Main takeaways: clean, free of wax, and dry. The instructions stipulate no car washes for two days; this type of tape takes a couple of days to achieve full bonding strength.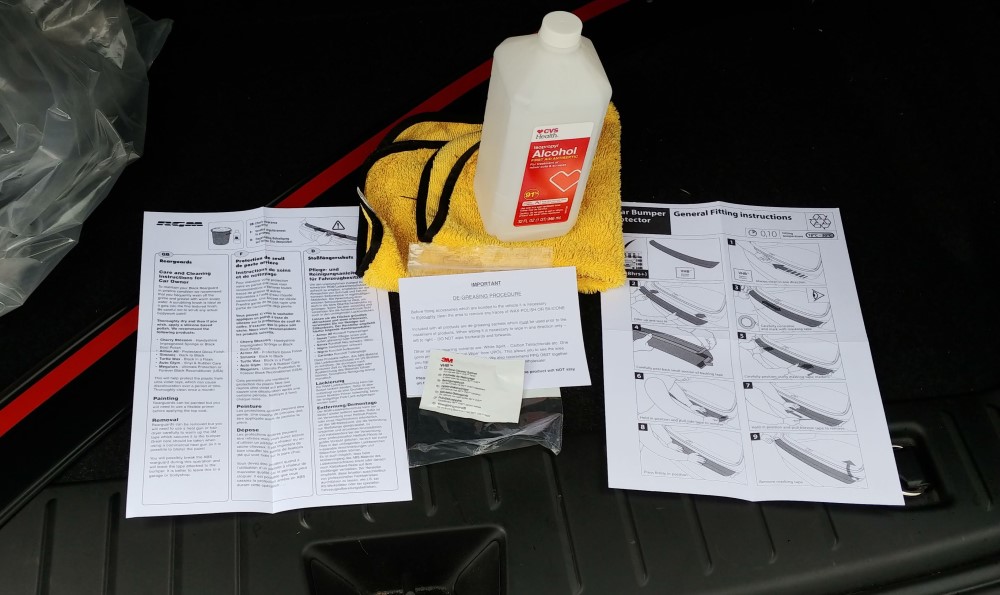 The installation instruction call for a test fit before exposing the tape. I did, and found that while the right side nests perfectly (first photo), the left side leaves a slight gap that I couldn't get rid of. It wasn't a matter of being improperly centered -- I tried! -- both outside edges of the Rearguard sit flush against the inner edges of the hatch opening, so there's practically no side-to-side wiggle room. For installation, the instructions call for exposing a short length of the tape to start, setting the Rearguard in position, then slowly pulling the tail of the tape while ensuring correct placement is maintained. BTW these two pics give a good look at the exposed-side texture.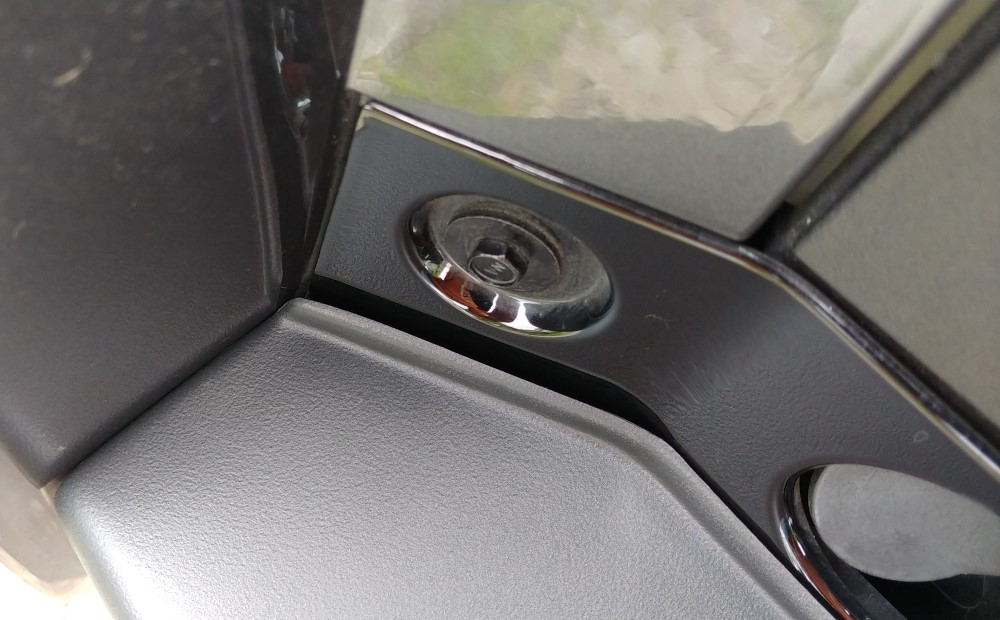 Once applied, the gap "problem" doesn't stand out, and obviously disappears once the tailgate is closed. The Rearguard looks good, or at least doesn't have the appearance of an add-on part. The way it closely follows the rear contour, and smoothly curves over the edge, makes it blend in as an original part of the car, and it extends welcome protection out beyond where the generic bumper guards stop short. This is as close as can be to factory fit and finish.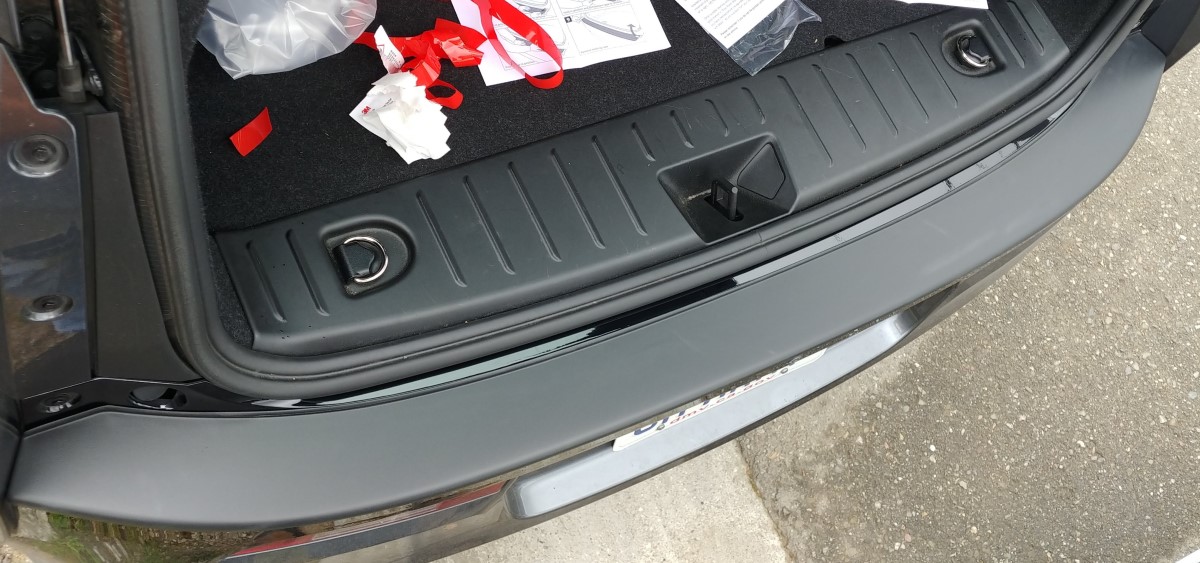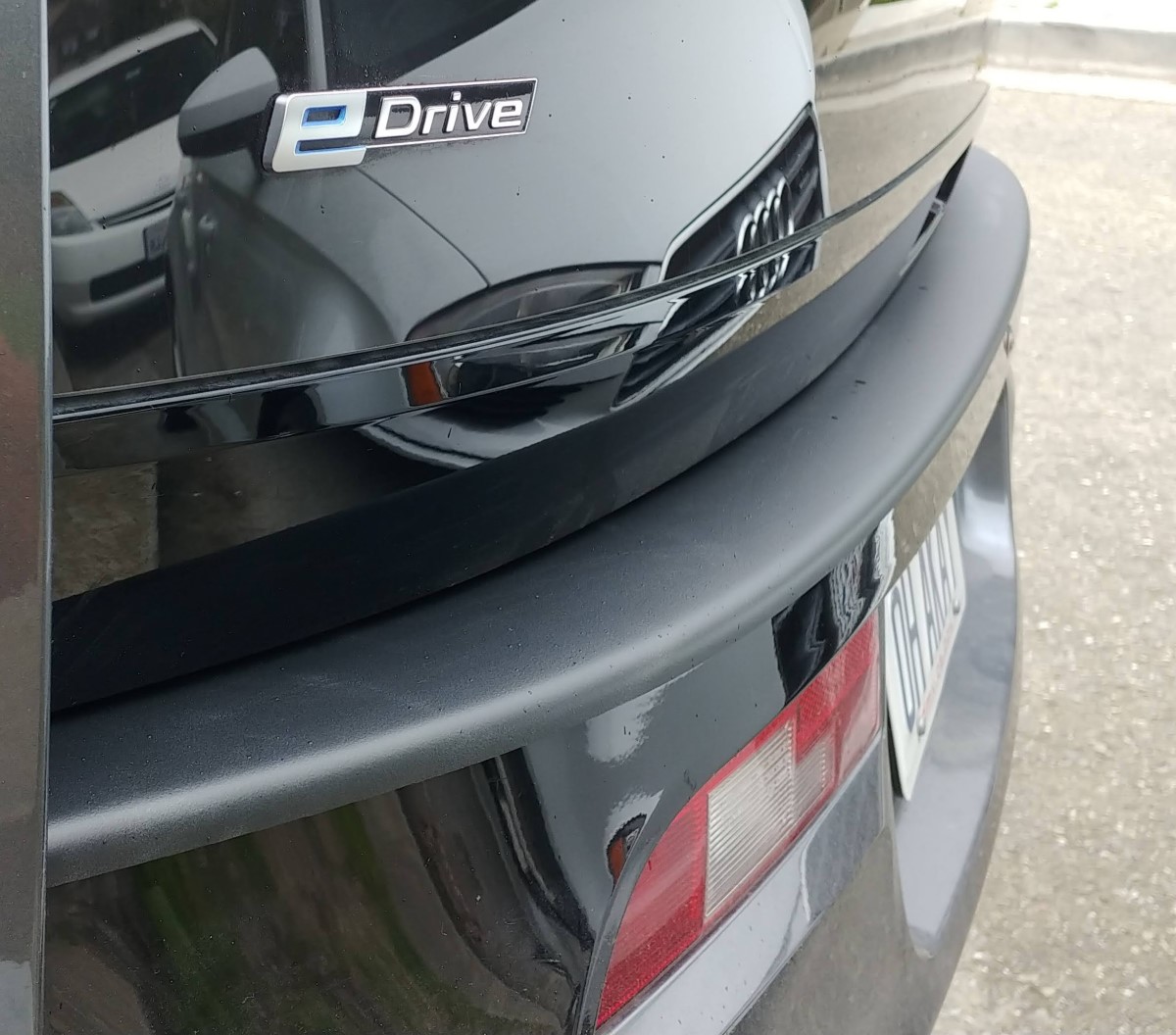 There you have it! ABS Rearguards with optional
applied surface finishes
are available: carbon weave, brushed alloy, and silver. My
personal
feeling is those fake finishes look cheap, and call attention to a part that should blend in. The Rearguard is removable, should you choose to do so. If your tailgate paint is pristine, this is a great way to keep it that way, If it's scratched, this is a great way to hide it. DIY installation ought to be easy for anybody. The real hurdle is the premium price, but at all-in $175, I wouldn't be shocked to be asked to pay that much at the BMW parts counter, if BMW actually manufactured this part. (FYI I looked up prices for genuine BMW bumper guards for other models, and no, they're not this expensive.)