Since purchasing my BEV four months ago, I'd been for the most part charging at Level 1 using the stock, 12A BMW "occasional use charger." 
I should preface this post by saying I don't suffer range "anxiety" per se, but I do monitor my state of charge closely and loosely plan a day ahead. Saturday mornings can be a killer! I'm infrequently at 100%, and am OK with that, living the life in the middle-percentiles. FWIW, I've run the SOC down to zero once, which I've posted about previously (
viewtopic.php?f=10&t=16492
).
I charge for free at work, where my car is parked 8 hours a day, 5 days a week. I also charge at "the house", where it's parked 5 days a week for 7 hours. (*note that I'm renovating "the house" and I'm not staying there overnight, and I don't purposely charge where we're temporarily living because it's a duplex with a shared utility meter and on-street parking.)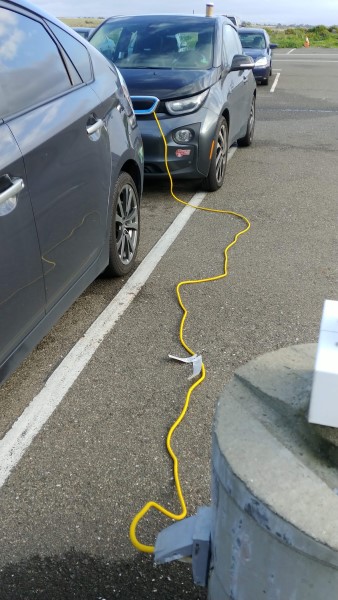 My typical day is 40 miles -- 16 miles (11 freeway) + 10 miles (4 freeway) + 11 miles (4 freeway). But my work days and house days are offset, so some days I charge at the house only, and others at work only.
Anyhow, maybe a month ago I purchased a Duosida D25 16A EVSE from Brad at BSA Electronics, and my experience has much improved.
BEFORE, stock charger: Gaining about 25% charge over 8 hours, I was recouping roughly 45% per day (7 hours house + 8 hours work). With my 94Ah battery, 1% is roughly 1 mile** (a little more). This was riding on the margin, near net zero charge at the end of the day. An unexpected trip could throw me off. I found weekly (maybe a little less frequently) I'd visit a nearby Level 3 EVGo to bring my i3 up to 80%, or a nearby Level 2 Blink charger for a modest boost. Very typically I found myself running below 50% SOC most of the time.
(Photo: my EVSE lives in the frunk, even while charging)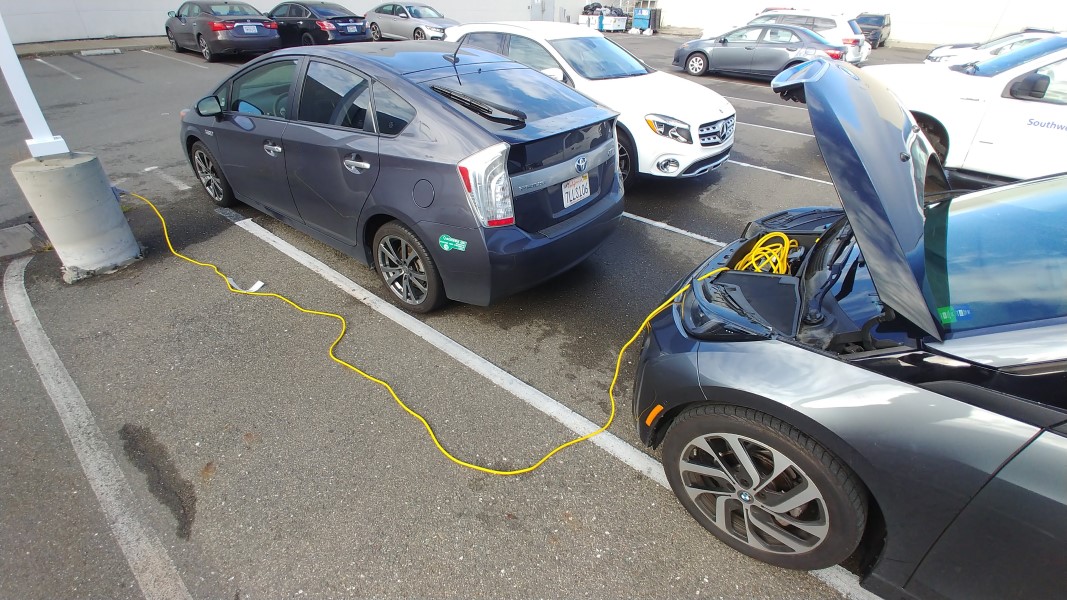 ** regardless of your battery size, the stock 120v 12A EVSE will get you roughly 4 miles of range per hour, and a 120v 16A EVSE 5 miles, depending on your miles/kWh driving efficiency
AFTER, Duosida charger: The 16 Amps of current is only a 33% increase over the stock charger, but it's completely changed my routine. By the end of a typical day, I end with about 15% more "in the tank" than what I began with. This also represents 15 to 20 additional miles "extra" I can drive without going into a charge deficit. My state of charge is generally greater than 50%, although I still dip into the low numbers, depending on the day.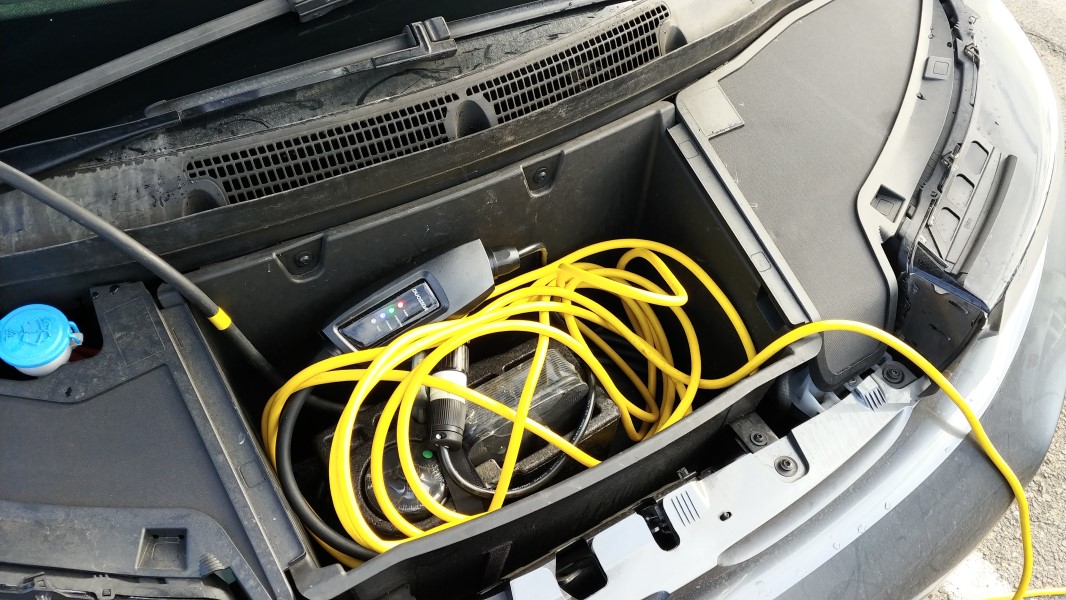 But more importantly, the Duosida is a dual voltage charger. So I wired up a 240v circuit in the garage and occasionally Level 2 charge (@ 16A) when I'm in need of a greater boost. This is recouping about 10% per hour. But I am still being a cheapskate, and I pull the plug at 75% if I know I can top up to 100% later at work (75% allows 10% for the drive, and then +35% during my time at work).
Charging @ home, 240v using the same cord, same EVSE, running to a special receptacle I wired up in the garage: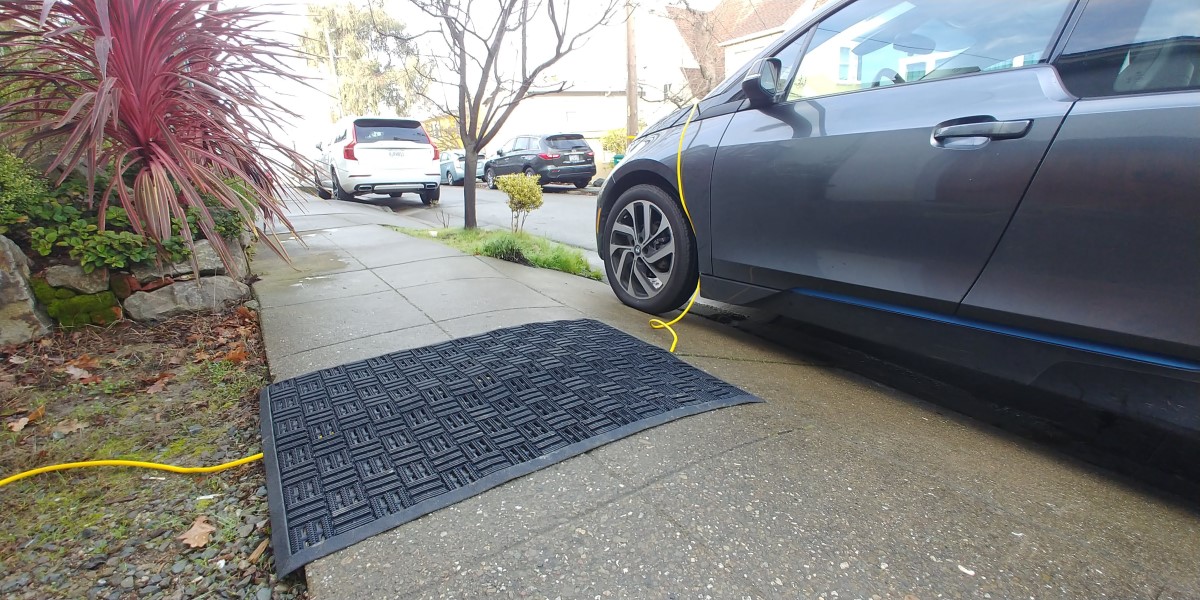 My stops at the Level 3 charger have all but disappeared -- I'll use one if I'm off schedule or on a longer errand, for a quick fix, but I don't think I've needed one since the switch-over.
Eventually I'll install a "real" level 2 charger at the house -- it's simply a lower priority project for me at the moment, and involves a small amount of concrete and drywall work.